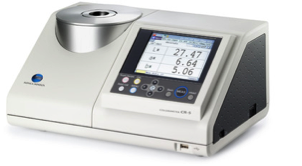 Laboratoorne värvimõõtja Colorimeter CR-5
Laboratoorne värvimõõtja põhineb CM-5 mudelil, pakkudes samas fantastilist hinna ja kvaliteedi suhet vedelike mõõtmistel. Sarnaselt CM-5 mudeliga töötab sõltumatult arvutist ja värviline näitekraan lisavad tõhusamat kasutust.
A Benchtop colorimeter based on the CM-5, the CR-5 offers a fantastic price to performance ratio, particularly for QC measurements of liquids. Like the CM-5 the CR-5 can operate independently of a PC and features a color screen for enhanced usability.
The CR-5 is a very versatile bench-top colorimeter to measure the colour of solid, pasty granular and liquid samples either in reflectance or transmittance. The top-port concept, offering various aperture sizes, allows measurement of almost any kind of samples. The CR-5 is thus the perfect all-rounder laboratory instrument for applications such as Flavours & Fragrances, Foods, Chemicals, Pharmaceuticals and Plastics.
The CR-5 can work stand alone thanks to the large colour screen and extensive firmware offering all major colorimetric systems including industry specific indices to measure transparent liquids such as Gardner, Hazen/APHA, Iodine, European and US Pharmacopoeia. In combination with the optional software SpectraMagic NX many more indices are available.
Tagasi