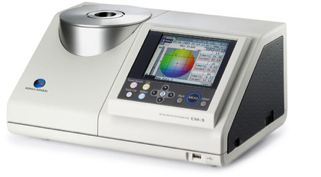 Laboratoorne spektrofotomeeter CM-5
Uuenduslik laboratoorne spektrofotomeeter kasutajasõbralike funktsioonide ja suure näitekraaniga. Võimaldab mõõta vedelike värve ja läbipaistvaid proove.
An innovative Benchtop Spectrophotometer with user friendly features and a large onboard display. The CM-5 is a benchtop spectro with a top facing port meaning easy changes for solid samples and samples in petri dishes. It can also measure the color of liquid and transparent samples.
The CM-5 is a very versatile bench-top spectrophotometer to measure the colour of solid, pasty granular and liquid samples either in reflectance or transmittance. The top-port concept, offering various aperture sizes, allows measurement of almost any kind of samples. The CM-5 is thus the perfect all-rounder laboratory instrument for applications such as Flavours & Fragrances, Foods, Chemicals, Pharmaceuticals and Plastics.
The CM-5 can work stand alone thanks to the large colour screen and extensive firmware offering all major colorimetric systems including industry specific indices to measure transparent liquids such as Gardner, Hazen/APHA, Iodine, European and US Pharmacopoeia. In combination with the optional software SpectraMagic NX, Haze and many more indices are available.
Tagasi