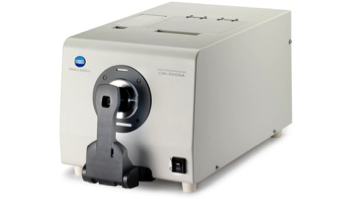 Laboratoorne spektrofotomeeter CM-3600A
Konica Minolta mitmekülgne tipptasemel laboratoorne spektrofotomeeter värvi mõõtmistel. Parim laboratoorne spektromeeter igasuguste vedelate ja tahkete proovide töötlemisel.
The CM-3600A is a versatile benchtop spectrophotometer designed to meet the color measurement needs of laboratory, R&D and production users. The instrument provides accurate color data for all manner of solid and liquid samples and can even measure haze.
The CM-3600A Spectrophotometer is a high-precision and high-reliability bench-top instrument with horizontal alignment capable to measure colour either in reflectance or transmittance and thus offering a wide range of applications such as Plastics, Paints, Ceramics, Chemicals etc.
The CM-3600A utilize the patented Innovative Optical System technology including numerical gloss control (NGC) for simultaneous measurements with (SCI) and without (SCE) specular components. In addition numerical UV control (NUVC) is the unsurpassed technology for UV adjustments when measuring samples containing optical brighteners such as pulp, paper textiles and other chemicals.
These patented technologies assure highest accuracy and repeatability levels combined with superior reliability due to reduced number of moving parts and thus offer an unmatched price performance ratio.
Tagasi