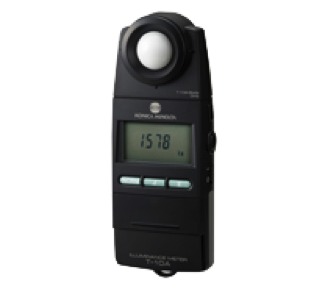 T-10 A / T-10AM
Kõrge eraldusvõimega valgusmõõtur laias mõõtealas
T-10AM kerge jakompaktne mõõteriist väikse mõõteanduriga
Konica Minolta new Illuminance Meter T-10A series. The T-10A Series inherits the same superior optical technology used by its predecessor the T-10. Among the main improvements are the ability to measure PWM (Pulse-Width Modulation) controlled light sources as well as the upgrade to USB communication interface.
The new instrument series comes in 2 models, the T-10A, which features a detachable receptor head allowing for multiple point measurements. The T-10MA
features a mini receptor with a 1 meter cable that can be used for illuminance measurements in narrow spaces where a standard receptor head would not fit. It can also be installed on various types of equipment or jigs for light level measurements.
The T-10A Series also include the two custom models T-10WL and T-10WS offering water proof body and cell, allowing illuminance measurements under water with 5m or 10m long probe cables.
T-10A Main Features:
Conformance
The T-10A Series conforms to DIN 5032 Part 7 1985 Class-B and Class AA of JIS 1609-1:2006 "Illuminance Meters Part 1: General Measuring Instruments"
Requirements. It also conforms to RoHS (Restrictions on Hazardous Substances Directive of the European Union). Conformance to these requirements ensures the T-10A Series provides high accuracy illuminance measurements.
Measurement of PWM controlled light sources
PWM (Pulse-Width Modulation) controlled light sources present a problem for most illuminance meters because only peak measurements can be taken. T-10A can take an average measurement of PWM light sources and provide more accurate readings.
Detachable Receptor Head
The receptor head can be detached and connected via LAN cable to the unit's main body for remote measurements. Multiple detachable receptor heads can also be daisy chained via LAN cables to a single main body for multipoint measurements of
up to 30 points.
USB Connection Interface
Upgraded from a RS-232C connection, the new USB interface provides an easier connection to a PC.
Tagasi