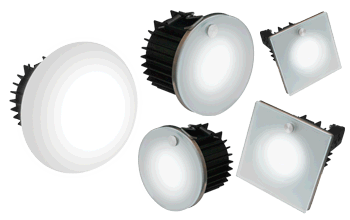 LED Recessed Downlights
The Meltron LED Recessed Downlight is in a class of its own, for highlighting details of an illuminated space. It also produces a considerable amount of light for very little energy consumption.
This stylish downlight is available in a variety of shapes, sizes and colours. It is perfect for all locations where lighting can be embedded in a ceiling, wall or floor. A special spring design ensures that it attaches easily and securely into the hole cut into the desired location.
The Meltron LED Recessed Downlight is available in both circular and square bezel shapes. They are ideal for general lighting, as well as individual target illumination. They illuminate art and interior details, while several luminaire
Recessed Downlights
Light Source: All Meltron lighting systems utilize the highest quality LED components from the most reputable global manufacturers
Colour temperature (CCT): 3000K/4000K
(3500K/ 5000K to order)
Colour Rendering Index CRI/Ra: 80 (90 available on request)
Operating voltage: 110-230 V AC
Power supply: Must be ordered separately. Dali, 1-10 V available to order
Bezel alternatives: Round, square, or ball
Casing material: anodized aluminium profile
Sealing class: Ingress protection IP44
Quick and easy to install: Ceiling or wall, with strong, spring-held fixings
Energy efficiency: Very low power consumption for high output
Lifetime: Exceptionally long at over 75,000h
Warranty: 5 years (extension negotiable)
http://www.meltron.fi/pdf/Meltron-2013_Com_Downlight_ENG.pdf
Tagasi