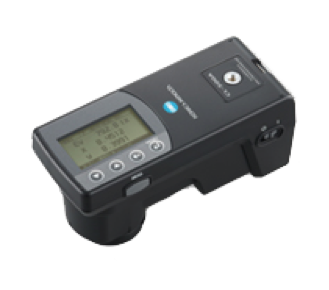 CL-500A
Kompaktne valgustustiheduse spektrofotomeeter leed- ja teiste valgusallikate valguse- ja värvi mõõtmiseks. Värviedastusindeksi ja värvsuskoordinaatide mõõtmine.
Top class accuracy to meet DIN and JIS standards
The new CL-500A enhances the wide range of Konica Minolta's instruments for measuring light sources. It is a very compact, lightweight and fully stand alone Illuminance Spectrophotometer for the accurate measurement of a wide range of light sources including LED's and EL illuminations. With its spectral wavelength range of 360 – 780nm, the CL-500A can calculate all major chromacity values, colour temperature including , and colour rendering index (CRI) with spectral accuracy.
Its accuracy and overall performance make the CL-500A the first hand-held illuminance spectrophotometer which fully conforms to DIN 5032 Part 7, Class B as well as JIS C1609 Class AA.
Broad range off application and data evaluation including colour rendering index
The CL-500A measures not only illuminance, chromaticity, and colour temperature, but also CRI (colour rendering index). The colour-rendering index is a quantification of the colour rendering properties of a lamp or other light source, and was defined to provide objective criteria. The colour-rendering index expresses the comparison of colour appearance effects between the light source being tested and a standard illuminant.
The CL-500A can be used for a range of applications, these include:
– Field measurement and analysis of light of a wide range of sources in terms of colour rendering index, colour temperature, chromacity and illuminance
– Development and quality assurance in addition to maintenance of LED signboards
– Measurement sensor for analysis of total flux and light distribution characteristics
in a integrating sphere
– Research and colour inspection of video data projectors
– As Master instrument in a quality management system using Illuminance Meter
T-10A and Chroma Meter CL-200A
Stand alone or software supported
With its large LCD screen and rechargeable lithium-ion battery, the compact design and full portability, the CL-500A is perfectly suited for measurements in the field. The display is capable of showing numeric values as well as spectral irradiance graphs with peak wavelength. The included Excel add-in software allows easy transfer of measurement data in to Excel spread sheets.
The optional Data Management Software CL-S10w offers many more functions and graphics, for example easy to read and analyze graphics for colour rendering index deviation or quantitative binning of LED's . For multi point measurements, the CL-S10w software allows measurement and data control of up to 10 CL-500A instruments.
Informative colour-rendering index display
Colour-rendering indexes can be represented graphically. Shifts between a test light source and a standard light source can be seen at a glance, with bar graphs showing the general colour-rendering index Ra (the average of special colour-rendering indexes R1 to R8) and the special colour-rendering indexes for a total of 15 colours (R1 to R15).
Tagasi