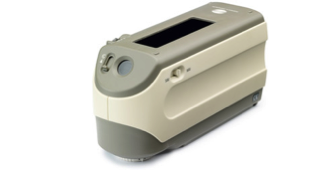 Kaasaskantavad spektrofotomeeterid CM-2600D / CM-2500D
Usaldusväärne ja täpne kaasaskantav spektrofotomeeter. Värvide mõõtmisega läikega ja läiketa seadistuste valikuga. Numbriline UV kontroll tagab võimaluse mõõta värve ka neilt proovidelt, kus kasutatakse valgendeid.
A reliable and accurate portable spectrophotometer with sample viewing window for easy sample selection, the CM-2600d and CM-2500d measure color both including and excluding the influence of gloss in one measurement. The instruments are ideal for color measurement of samples with optical brightener such as paper, card and fabrics as they can perform "numerical UV control" which is a unique feature in a portable colour measurement instrument.
The CM-2600d and CM-2500d are portable sphere type spectrophotometers with horizontal alignment, which is most convenient to measure the colour of flat or large samples. Both models using the patented numerical gloss control (NGC) which delivers measurement data's including (SCI) and excluding (SCE) surface conditions in one measurement sequence.
Single handed operation is achieved with the "Navigation wheel" and the sample observation port allows perfect sample positioning. The large information display shows measurement data either as numerically or graphically. The CM-2600d offers additional 3mm measuring aperture to perfectly adapt to small sample sizes.
To analyze samples treated with optical brighteners (OBA's), the CM-2600d uses the patented numerical UV control (NUVC) system for accurate and fast UV content adjustments – a unique feature in a portable instrument.
http://www.konicaminolta.eu/fileadmin/content/eu/Measuring_Instruments/2_Products/1_Colour_Measurement/2_Spectrophotometers_Portable/2_CM-2600d_CM-2500d/PDF/CM-2500d_EN.pdf
Tagasi